We move pianos anywhere in Sydney. 
Phone,Call or SMS picture of piano and driveway
0447 00 00 99.
We can move pianos any in  condition upstairs to driveways down paths if you're just moving a piano without a scratch, we will guarantee or if you just want to taken away we can take it away and it's gone, check our Facebook page.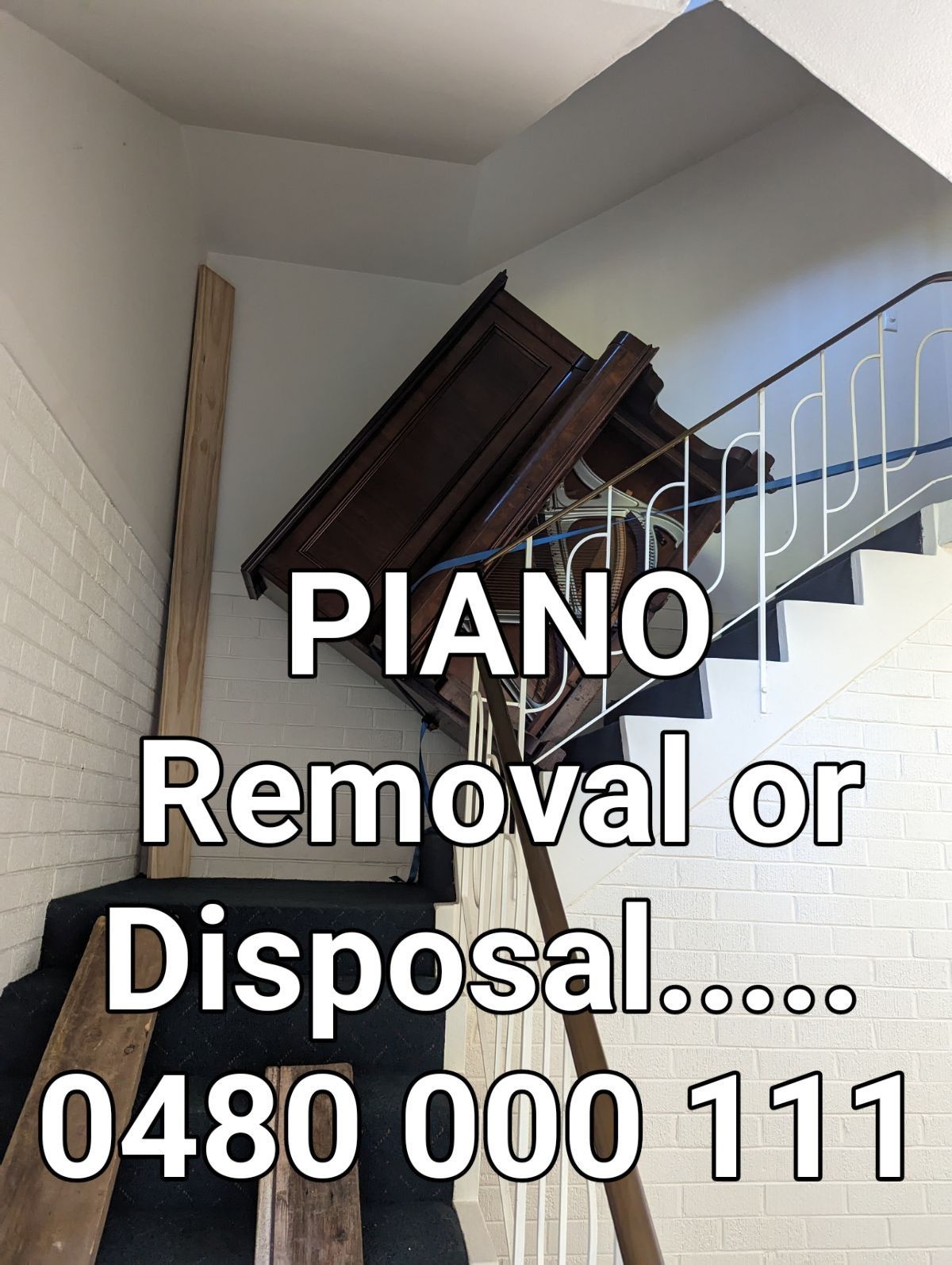 We strive to move and dispose of various types of pianos. The critical factor that makes us different is "move with ease."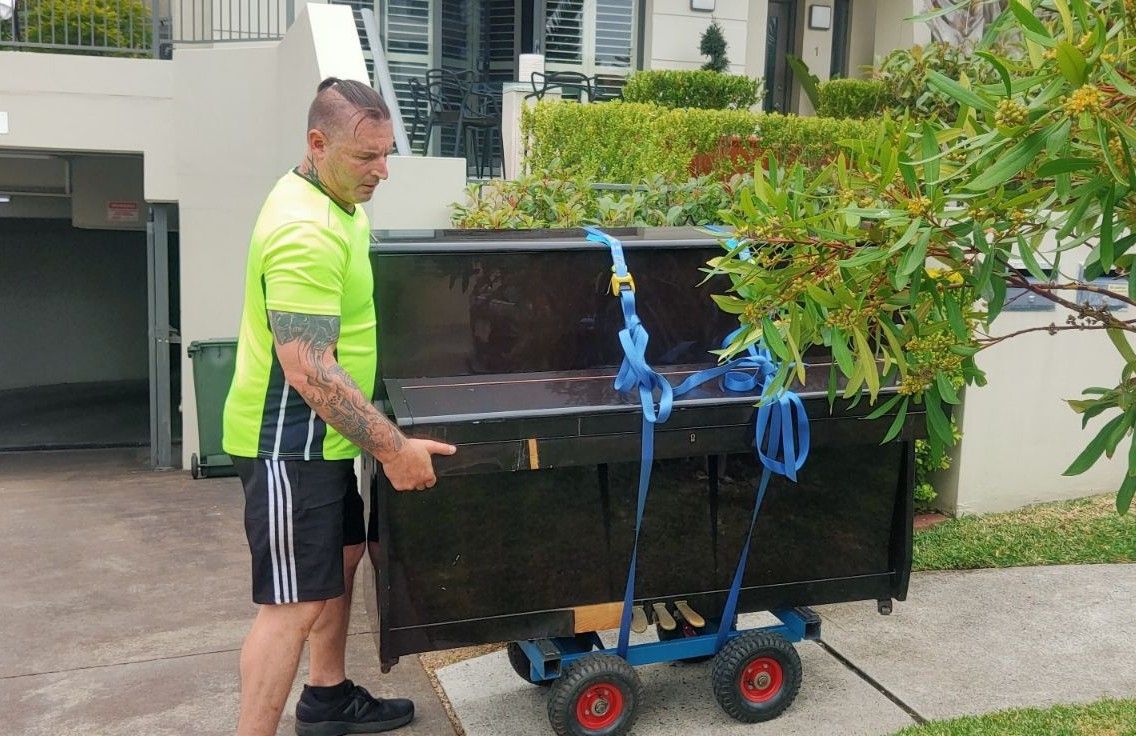 All you have to do is send a picture of your piano and leave the rest to us. We can help you with Piano Removal anywhere in Sydney, NSW. 
We have earned the batch of "most trusted." piano removalists from our clientele all over Sydney. Our customer base is enormous when we talk about cheap removal piano companies. We move pianos from:
House to house

Storage to the performance stage

From the store to the educational institution

Events such as weddings, church carols, fairs and concerts.
Our office managers frequently get calls from musicians, performers, educational institutions, event planners, charities, music stores, and individual clients.
Professional Piano Removal Is A Wise Choice
Moving a piano is challenging, especially if it is heavy and old. Moving a piano within your would require at least two people. When relocating a piano, you should always hire professional piano removal. While you might attempt to keep your relocation as inexpensive as possible, it won't help if you ruin your expensive piano. Here are the top four justifications for always hiring a qualified piano mover.
Please Don't Take Chances: It may cause injury & damage.
Pianos are surprisingly heavy and bulky. They are difficult to move, mainly if stairs are involved. If you attempt to move the instrument yourself, you endanger the piano and yourself.
The piano can easily escape your grasp. Of course, improper lifting could result in a back injury requiring hospitalisation. Even if you avoid getting hurt, the piano could sustain harm if it escapes your grip.
The piano may be easier to lift and transport correctly with a group of four to six solid guys. They have the potential to cause harm or damage. Some pianos weigh over 500 kg. Careful Movers will supply the necessary staffing and a group of lads who are accustomed to cooperating with one another. Professional piano moving methods will ensure that neither the employees nor the piano is harmed during the process.
Professional Trucks & Packing Of Piano
Pianos must be transported with the appropriate equipment, unlike other types of furniture, to do it safely and effectively. We provide a variety of trolleys and dollies that were all constructed expressly to support the pianos' substantial weight. For adequate piano protection, all pianos are wrapped in thick blankets. All our trucks are equipped with a wide hydraulic tailgate, eliminating the risk of damage during loading and unloading.
A piano can weigh anywhere from 200 kg to 600 kg. If handled by someone unfamiliar with carrying really big items, these weights could harm the movers and the furniture. Since we are Sydney-based piano removal professionals, we have the knowledge and experience necessary to complete the task without mishaps.
It is worth hiring Careful Piano Removal Team.
It might appear that skipping the skilled piano mover will save you money. The piano will need to be tuned if you damage the legs, pins, or strings. And tuning a piano costs range from $2500 to $3000 easily. Ultimately, transporting the piano yourself can cost you more than hiring a piano removalist.
A piano is challenging to move. For individuals who have no prior experience, the work is complex. Hire a cheap piano removalist in Sydney a call and book your move. This will make it much simpler to protect the piano from harm and injury.
Know all about pianos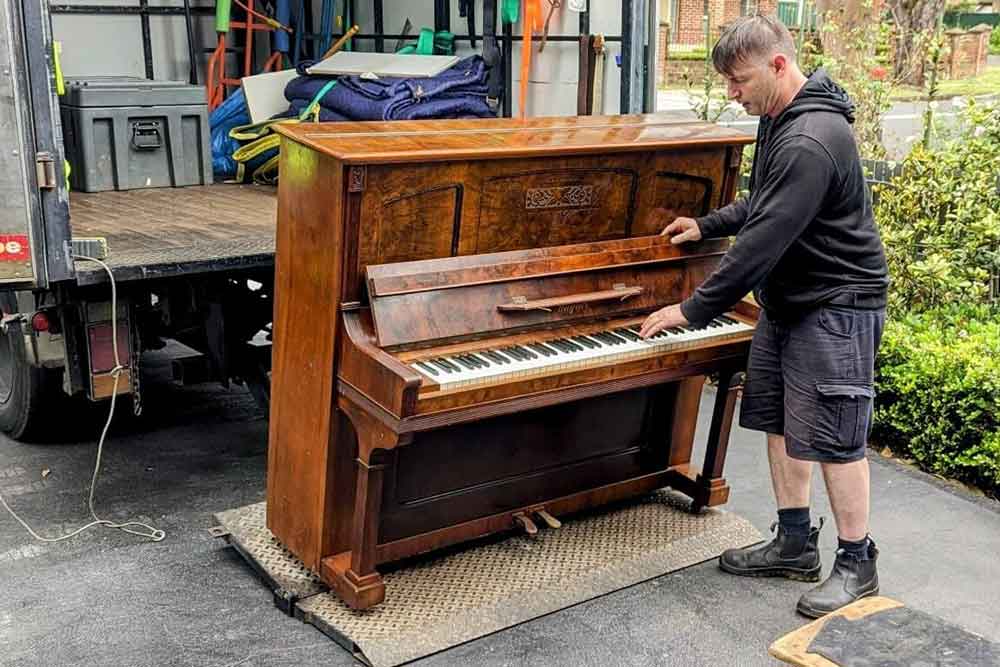 Pianos are the mother of all the instruments covering all 88 musical scale notes. There is a wide variety of weights and sizes available for pianos. Determining the precise sort of piano you have is the first step in determining how much it weighs. If you know the exact model, you can also get the complete information on the website.
A standard upright or vertical piano weighs between 90 and 545 kg. The weight of a traditional baby grand piano ranges from 227 to 272 kg. Whereas the ordinary professional grand piano might weigh around 300 to 550 kg, a concert grand piano can weigh up to 500 kg.
This chart may be helpful
| | |
| --- | --- |
| Grand Pianos | Estimated Weight |
| Grand Pianos (concert) | 400-550 Kg |
| Semi-concert grand pianos | 400-420 Kg |
| Recital Grand Pianos | 340-360 Kg |
| Medium Grand Pianos | 270-280 Kg |
| Baby Grand Pianos | 230-275 Kg |
| Petite Grand Pianos | 180-230 Kg |
| | |
| --- | --- |
| Vertical Pianos | Estimated Weight |
| Upright Pianos | 227-450 Kg |
| Studio Pianos | 180-230 Kg |
| Console Pianos | 150-200 Kg |
| Spinet Pianos | 90-180 Kg |
Why are pianos are so heavy?
The piano is one of the heaviest musical instruments available due to the combination of hefty cast iron plate, thick pieces of timber, and countless other parts.
The metal harp is primarily responsible for a piano's weight. This component makes up nearly 70% of the total weight of the instrument.
To give you an idea of how much your particular piano may weigh if you were trying to transport one. Above is a rough breakdown of how much each style of piano weighs.
Upright Piano and Vertical Pianos
The standard piano you can find in academic institutions is a vertical piano. They are square or rectangle-shaped and have flat backs. Upright pianos, console pianos, spinet pianos and studio pianos are typical of this category. Since they weigh less and don't need any parts removed, vertical pianos are easier to handle than grand pianos.
A grand piano weighs how much?
The size of a grand piano can range from a petite grand piano to a concert grand piano. If you are unsure of the specific type of grand piano you own, you could wish to acquire some measuring tape to obtain a broad notion. After you know its precise size, you can use the information below to gain a rough sense of how much your grand piano weighs. However, visiting the official website of the piano brand can give you detailed info about the piano. With Careful Movers, you have to send a few pictures, and the rest leave to us.
The many grand piano types and their weights and lengths are shown in the above table.
Professional Process Of Piano Removal by Careful Movers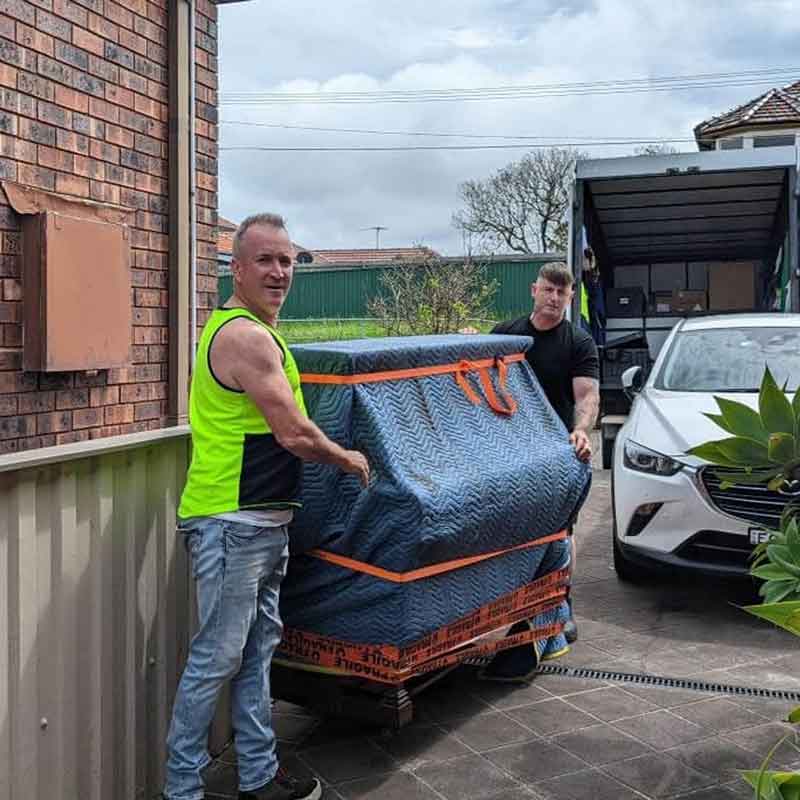 Moving items itself is a tiring and exhausting task. Even ordinary furniture for daily use. Imagine the amount of preparation required to relocate a giant concert grand piano. For any removalist, weight, size, and access are the three crucial elements to keep in mind for a successful move. With pianos, all three of them come with the highest degrees. Pianos are heavy, bulky and difficult to move.
Careful Movers
with experience develop a proper plan and process to move a piano without damaging your item and property.
Get in Touch:

A skilled piano removal will know how to handle a piano securely and ensure it arrives in perfect shape. Self-moving a heavy piano is very dangerous. Call or text

Careful Movers

from anywhere in Sydney, and we will help you with piano moving at the best price. We believe in minimum botheration. Our office manager will ensure clear communication.

Moving Day:

Our boys will arrive on time with the proper moving tools, such as ropes, straps, and heavy wheels dolly, and will disassemble your piano carefully. Our piano-moving team is about more than just using muscle. The piano's components are packed with high-quality packing supplies such as heavy blankets and bubble wrap. Our removalists will carry the piano and load it onto the pickup truck. All our trucks have hydraulic lifts, ensuring safe vehicle entry.

Safe Transit:

Our expert movers will ensure heavy scuffing around the piano to avoid any marks or scratches against bumps in a moving vehicle. The piano will be placed in an upright position and secured with heavy-duty straps ensuring tight enough that it does not move. It is an essential step in the piano moving process because any changes in the delicate internal mechanism of the piano can cost the client thousands.

Unloading:

Even if other items are stacked in the truck, our removalists will first unload the piano and move it directly inside the property or venue. Leaving the piano outside is a considerable risk from moisture, direct sunlight, pets and sometimes even kids.
FAQs
How much does the piano removal in Sydney cost?
It isn't easy to give a fixed price or overall job cost for moving a piano. Many factors are involved, such as the type of piano, distance of the move and property access. Once we get all the information, our job manager can help you with the estimated cost.
Is it necessary to disassemble the piano before relocating it?
It depends on the type of piano. However, we will disassemble it if necessary, especially in tight accesses and too many stairs. Our piano movers are knowledgeable, experienced, and skilful in disassembling and reassembling the piano.
Can a piano be moved on the same day?
Careful Movers trucks are available within 25km of Sydney CBD. However, on a busy day, it may not be easy. The best practice is to book us in advance at least seven days before moving day. We promise a reasonable price and a timely job guarantee when you book it in advance.
My piano is too old, can you help me to haul it away?
Careful Movers have a dedicated rubbish removal department. We can ensure safe disposal at a proper recycling facility.
Can I move a piano myself with my friends or family?
You just have to weigh up the damage that you can cause yourself and your piano and also take to the account the damage that you can do to your property like walls and things. A lot of people do hire a trailer but you really need a truck with a tail lifter and all the equipment if your weigh up the costs it's better to hire the right local people.
Can I move a piano interstate?
You can sometimes it's better to get someone local to help load it up if the piano is just being moved on its own on an interstate move it probably be handled by different people a few times.
Does stairs affect the price?
Most pianos are on most pianos are on the ground floor or just have one or two steps which is not hard to get over but once it goes over that most piano movers would charge you $20 a step. Turns and bends can be a challenge but depends on your labour and manpower and how experience the removalist is plus the trolleys and equipment that you have.