Sydney Removalists. Need to move fast? See the Truck you like, it's $99ph for Two men and a Truck.
JUST

PICK

YOUR

TRUCK

. We are a High Quality-Buget Removalist
With 9 Trucks avali­able for you 24/7, We never say no.
Look what our cus­tomers say about us,Just Check our video—>
Call us and move with conferdence.
Get imme­di­ate con­fir­ma­tion that your Appoint­ment is booked.
We  fit in with the time that you want to move.
Real peo­ple there when you need them…
Just choose your truck.
It's our respon­si­bil­ity to pro­vide you a pain­less expe­ri­ence and see that you are in your new home as com­fort­ably and pain­lessly as possible.
We can fit around your Sched­ule with Morning,Lunchtime and After­noon Time slots.
We go to all area's of Sydney,Central Coast,Blue Mountains,Canberra North and South Coast,Woolongong,Newcastle,Brisbane and Melbourne.
our rates a simple.We guar­an­tee  you will not pay more.

$99 per hour for  Two men and a Truck.
Same price MON –SUN !
Only pay for the time the guys are there.
No base to base Charge…$O dol­lars call out  fee…(With in 25 km of CBD)
Always Avail­able SUNDAYS at no extra cost…
Book­ing is easy
1. Pick your truck size.
2.Decide what time suits you.
3.Ring and book.
4.We give a esti­mate of how long your move will take.
Its that easy we will do the rest just pick your truck!
Truck 1.
3 ton truck and two men great for small moves if you only have a stu­dio or small one bed unit.
Truck 2.
4.5 ton truck and two men suits medium  size moves great if  you have a nor­mal 2 bed unit or small house.
Truck 3.
9 ton truck and two men moves a 3–4 bed­room unit or house.
 $99 per hour no call out fee all  areas.If you have a small job we can do it.(min 2 hours with in 25km of cbd,min 3 hours if out side 25km of cbd)
Left your move to the last minute.Late book­ings no Problem.….
We can have a truck on your door step in one hour.
To Make a Book­ing call 0447 00 00 99
NEED STORAGE…
Spe­cial Lim­ited time only offer MAY/JUNE ONLY,Pay for one month's Stor­age and recieve your sec­ond months stor­age free.
If you need your ques­tions answered call and speak to the Man­ager some­one who knows your area and and can talk to you about what you want done, give you a time,price and date for your move and answer any ques­tions you have on the spot.
Call our MANAGER DIRECT Tony, He is always avail­able to take your  call 0425 80 60 10 or email carefulmovers@live.com.au We wel­come any ques­tions you have on the size off our trucks and how long your job will take.
CAREFUL MOVERS are a Syd­ney Removal­ist com­pany that takes care of our customer's fur­ni­ture and belong­ings. We under­stand the need for gen­tle han­dling when mov­ing your fur­ni­ture and the care that should be taken. Most of all we like to get results for our cus­tomers and pro­vide good value for the money with our service.We are here for you good a suc­cess­ful move for you is a suc­cess­ful move for us.
About us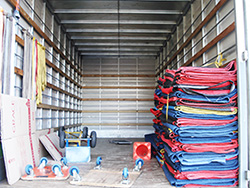 ALL TRUCKS COME WITH PADS AND BLANKETS TO PROTECT FURNITURE!!! Care­ful Movers are Sydney's only spe­cial­ist care­ful removal­ist. Your Truck also has 3 dif­fer­ent kinds of trol­leys so were ever you are we can get your fur­ni­ture and belong­ings into the Truck safely.Whether you are in Sydney, Newcastle, Cen­tral Coast, Gos-ford, The south coast or Blue Moun­tains we are the only peo­ple you should turn to if your fur­ni­ture needs that bit more extra care than nor­mal. Check our video on how we cover, wrap and put plas­tic on every­thing you have.
Do you have pot plants? We are extra care­ful with your pot plants as we know how easy they are to dam­age just check our you tube chan­nel for so off our videos on the plants we move.
Need to move on a bud­get? Put simply, our rates are good, our record is good and we see it as our duty to move your fur­ni­ture in a time frame that suits you. If you only have a 3.5 hour job we will do it in 3.5 hours and you only pay for 3.5 hours we charge to the near­est 30 min. For that rea­son Syd­ney has trusted Care­ful Movers, because we treat your fur­ni­ture and belong­ings with the same care and respect that you do. Our suc­cess rate is 100%. Just look at our ref­er­ences and testimonials.
Ques­tions and Answers !!!
Q.I have some fur­ni­ture that needs to be taken apart do take things apart.
A.That is part off the service,It good if you can have every­thing ready when we get there but you can only do your best,We have tools on the truck and can take apart most fur­ni­ture eg;Beds,Dinning tables,Desks ect..
Q.Are your Trucks Clean?
A.Very good question,It's your fur­ni­ture that will be going in the back off the truck so this should be on your ques­tion list.Basically if the trucks clean your fur­ni­ture comes out clean if its dirty your fur­ni­ture comes out dirty.That's why we spend one day a week clean­ing our trucks to make shore your belong­ings are protected,have a look at the pic­ture of the back of the truck on the header at the top off our web­site this is how a truck should look.
Q.How long will my job take?
A.We are happy to answer this ques­tion over the phone,The main fac­tors are what sort off build­ing are you in A house is going to be easy er and quicker than a unit,a ground floor unit is going to take less time than a top floor unit.The best thing to do is have a rough list off what you have to be moved and decide if you would like every­thing you have moved in one go or just get us in to do the big stuff.We will ask a few ques­tions on where you are and where you are going and give you a esti­mate over the phone.
Q.If the job takes more than 2 hours how do you charge?
A.Just to the near­est 30 min so if the job takes 2.5 hours you would pay $247.50.
Q.How do I know I am get­ting good Value?
A.When you google Syd­ney Removal­ist so many dif­fer­ent Fur­ni­ture Removal Com­pa­nies come up with many dif­fer­ent rates, It must be hard to know who to trust some as lit­tle as $23 phh some the com­pa­nys are well known and have great web­sites but with all the condition's and extra charges you must be ask­ing your self what am I really going to end up pay­ing just to use that as  exam­ple when I looked a well known site promis­ing $23phh,  The fine print it of that com­pany the con­di­tion was min 3 hours + fuel levy + that they load only be lug­gage or boxes.Our sim­ple promise is we charge one sim­ple flat rate $99 per hour for Two men and a truck Mon­day –Sun­day we do the job as quick as pos­si­ble to give our cus­tomers the best value for money.
Q.Some Syd­ney Fur­ni­ture Removal­ists charge $180 per hour on a Sat­ur­day how come you charge $99ph 7 days a week?
A.We pro­vide good ser­vice so we get alot of busi­ness and keep our over­heads low so all you end up pay­ing for is 2 men and a Truck and a owner that wants to see you get good service.
Q.Is there a Cheap Time Slot?
A.On Tuesday/Wednesday after­noon  we can nego­ti­ate a discount.
Q.Whats the best time slot  to book?
A.The best time to book is a 7.30am/8am Start if you would like to do it first thing in morn­ing or 12.30 pm/1pm if you would like to start in afternoon.But we are flexible,there are all ways fac­tors that need to be worked around like Traffic,What time you have booked cleaners,when lifts are avail­able ect…We will work with you on what time you want to start.
Q.Whats the best way to book Phone or email?
A.Either way is OK if you phone you get to speak to the Man­ager and have a chat about how how things will go on the day,but If you would like the con­ve­nience of just send­ing one email and your booked just pro­vide a time 'date, address and phone num­ber in email.
Q.Whats a bet­ter Way to hire a Removalist, Quote or Hourly Rate?
A.If you go by hourly rate at least you will be able to con­trol the cost by only pay­ing for the time you use,We only hire men that enjoy being busy and would rather do a good quick job and get on to the next job.Plus the Man­ager Rings the cus­tomer after every move to check that you were happy with the service.
Q.Do you have any reviews from pre­vi­ous Customers?
A.We are all ways try­ing to improve the ser­vice and be in touch with what really hap­pened on the day.So we value your opinion.If you make a book­ing tell the man­ager that you will be leav­ing a review on our review page after your Move this will insure you get good service.
Thank You for read­ing about our busi­ness and most Impor­tantly happy moving.….
Is your fur­ni­ture New, Frag­ile, Antique or in a tight spot? Do you need experts who know how to han­dle your fur­ni­ture correctly? We will take on the jobs other peo­ple will not. Just tell us what you have and it's done. We are always look­ing for ways to improve our ser­vice after the job is done. If you have any pos­i­tive or neg­a­tive feed back we would gen­uinely love to hear it. A suc­cess­ful move for you is a suc­cess­ful move for us. more »
But theres more we will even take away your Rubbish

Is your house full off Junk,GET RID OFF IT! We take any OLD FURNITURE, junk, beds, e waste, white goods and green waste to the tip and its gone. We take care to ensure that your rub­bish is dis­posed of respon­si­bly, includ­ing recy­cling and even donat­ing your unwanted goods to char­i­ties, where applic­a­ble. But if you have been knocked back buy the Sal­va­tion Army or St Vin­cent De Paul…
SOS

Take our

JUNK

 

AWAY

.

We take
ALL

unwanted Furniture
Sofa beds,old lounges,wardrobes

&

 beds.
Office junk/paper
Gar­den waste and trees
Ren­o­va­tors waste, even old carpet
E Waste: old com­put­ers and TVs
White Goods: fridges and wash­ing machines
The Tip is in Arta­mon so its not far we take it there and

DUMP

 

IT

.
You just have to pay the Tip fee which is $380 a tonne. (Sorry it just increased with car­bon tax).We will take any­thing that can fit in our trucks and clean up before we drive away so, when we say that we're Care­ful Movers, you can believe it! more »
Testimonials
Sharon Stewart, Cronulla

Just a quick line to thank you and the team for a job well done today. You made everything come off very easily and I'm especially pleased that my precious collection of Swarovski figurines came through entirely unscathed! I'll be recommending you to all my friends :o)

Bruce Southgate, Neutral Bay

"Just a quick note to thank you and the team for the great job you did moving me from Bondi the other day. Our last move was a debacle, so we were really happy with your professionalism and courtesy from the moment we called you until the move was completed."

Pamela Brunton, Seaforth

"Thank you so much for the wonderful job you and the guys did with my move over the weekend. Everything was handled so carefully and efficiently that my "stressful day" finished up being more like a "holiday"!

Garry Dunbar, Cammeray

Thanks to everyone there at Careful Movers for making my move day from Manly so easy! Jen's beloved heirloom statue and nic nac collection survived the move without a scratch and everyone agrees that, thanks to your efficiency and professionalism, the day was totally stress free.